Rimadyl Rewards Program!
Posted on August 19, 2014 by admin in dog, info, product, Promo!, special, store
Did you know that if your dog is on Rimadyl for arthritis that you can earn reward points? The reward points translate into dollar amounts that are automatically loaded onto a rewards card that you can use at the clinic for ANY PRODUCT OR SERVICE!  Unfortunately, we cannot submit the receipts for you. However, Rimadyl has made it easy for you to enter receipts either online at their website OR you can use their app that's available as well.
Want to know how the points break down? Check out the chart below: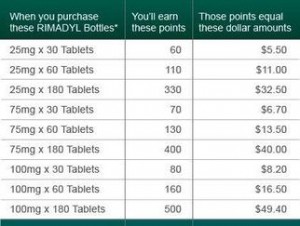 Need the link to sign up?