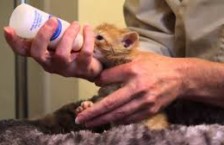 Posted on April 21, 2015 by admin in cat, kitten, orphan

This video from Maddie's Fund shows how you should bottle feed a kitten. Please remember We do recommend using a kitten milk replacer that is already liquid, like a juice box, instead of using the powdered formula that you have to mix. Do you need kitten milk replacer? We keep it in stock at the […]

Comments Off

on Orphaned Kittens: How to Bottle Feed A Kitten

Continue Reading...