The Spread of Canine Influenza
Posted on April 18, 2015 by admin in community, dog, Learning
Canine influenza is a relatively new disease, and most dogs are susceptible.
The first confirmed outbreak of CIV infection occurred in Florida at a Greyhound racing facility in 2003. Since that time, the incidence of CIV infection has increased, and outbreaks have been reported in dog-racing facilities, shelters, kennels, veterinary offices, and pet stores. Based on recently compiled data, CIV infection has been documented in at least 40 states in the US. Keep in mind that these statistics are based on samples sent in voluntarily, and in no way reflect the scope of dogs affected in each state.
Canine influenza is easily spread.
Canine influenza has now been documented in a variety of breeds throughout the United States.
The map of the United States below highlights the states in which canine influenza has been documented.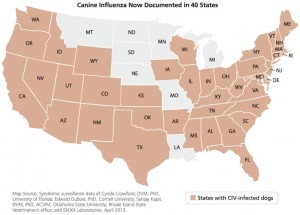 Because of the increased risk of exposure, dog flu is more likely to be transmitted between dogs in locations where dogs are in groups, such as dog parks, kennels, and shelters. However, experts working on canine influenza suggest that there is no need to panic, and there is no need to change your everyday routine with your dog, unless he or she is exhibiting signs of respiratory illness. You can still take your dog to play in dog parks, board the dog in kennels, and take your dog for routine appointments at the veterinarian or groomer. Reputable businesses that provide care for dogs should already be taking all precautions to prevent spread of infectious diseases such as canine influenza.
You can help prevent the spread of canine influenza by vaccinating your dog, since an effective vaccine is now available. The vaccine has been shown to control the spread and decrease the impact of canine influenza.
If your dog has any of the signs of CIV infection, you should consider the following:
Keep him or her home and avoid activities where other dogs can be exposed while the dog is coughing or exhibiting other signs of respiratory disease, usually for about 2 weeks.
Keeping your dog's toys and food and water bowls clean with soap and water can also help prevent spread of the disease. You should disinfect your hands (with soap and water or an alcohol-based hand sanitizer) and wash clothing after exposure to dogs that have signs of respiratory disease to avoid transmitting infection to other dogs.
Knowledge and common sense are your best defenses against canine influenza, so be aware of any information about outbreaks of canine influenza in your area, and take appropriate precautions.
Information from doginfluenza.com