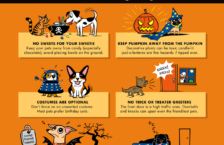 Posted on October 30, 2015 by admin in cat, community, dog, handout, holiday, info, Learning, photo

Halloween can be a dangerous time for your pets. Check out these hints to help keep your dogs and cats safe during trick or treating and other Halloween surprises.

Comments Off

on Halloween Pet Safety Tips

Continue Reading...