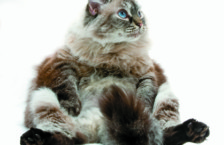 Posted on April 25, 2014 by admin in breeds, cat, holiday, Learning, trivia

Hail to the Hairball: 5 Fun Facts About Hairballs in Cats From: DVM360 Hacking and health:  Your client's feline friend frequently grooms, swallowing fur. Most the fur passes through the cat's digestive system to decorate the litter box. Kitties who hork up frequent hairballs may need to see the veterinarian. Furr-ociously fastidious:  Longhaired cats, including […]

Comments Off

on It's Hairball Awareness Day!

Continue Reading...