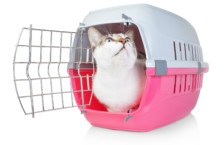 Posted on September 24, 2014 by admin in cat, info, Learning

Did you know that you can make it easier for you and yuor cat when using a cat carrier? Try this step by step guide to help your cat learn to love her carrier! (Courtesy of DVM360.com) Step 1: Cat, meet carrier Place the carrier in a cat-friendly area and leave it open […]

Comments Off

on Getting Your Cat to Adjust to a Cat Carrier

Continue Reading...